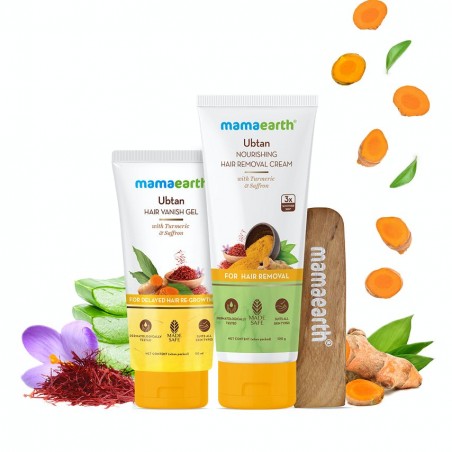  
Mamaearth Ubtan Nourishing Hair Removal Kit With Turmeric & Saffron, 100g+50ml, For Hair Removal & Growth Reduction
The at-home hair removal solution you've been looking for is here. Mamaearth Ubtan Nourishing Hair Removal Kit is India's first Made Safe certified cream to get rid of unwanted hair. 
Crafted with the goodness of natural ingredients like Turmeric and Saffron, the Ubtan Hair Removal Kit is pain-free and won't leave you worrying about hot wax burns or razor cuts. 
Thanks to no toxins in the cream, you also don't have to worry about allergic reactions or skin darkening. And it's super quick - cream on, hair gone in just 8 minutes!
The Ubtan Nourishing Hair Removal Kit isn't just a cream - it's a complete kit that removes hair and delays hair growth. It contains a Hair Removal Cream, a Hair Vanish Gel that slows down hair growth, and a wooden spatula for easy application and removal. 

Security policy (edit with Customer reassurance module)
Delivery policy (edit with Customer reassurance module)

Return policy (edit with Customer reassurance module)
The at-home hair removal solution you've been looking for is here. Mamaearth Ubtan Nourishing Hair Removal Kit is India's first Made Safe certified cream to get rid of unwanted hair. 
Crafted with the goodness of natural ingredients like Turmeric and Saffron, the Ubtan Hair Removal Kit is pain-free and won't leave you worrying about hot wax burns or razor cuts. 
Thanks to no toxins in the cream, you also don't have to worry about allergic reactions or skin darkening. And it's super quick - cream on, hair gone in just 8 minutes!
The Ubtan Nourishing Hair Removal Kit isn't just a cream - it's a complete kit that removes hair and delays hair growth. It contains a Hair Removal Cream, a Hair Vanish Gel that slows down hair growth, and a wooden spatula for easy application and removal. 
Enriched with nourishing ingredients like Aloe Vera and Vitamin E, the Hair Removal Kit hydrates and calms the skin, making the whole experience comfortable and hassle-free. It's painless, smells amazing and is super gentle especially for sensitive skin and bikini line.
Get ready to experience the goodness inside as the Ubtan Nourishing Hair Removal Kit contains no Silicones, Parabens, Mineral Oil & Dye
16 other products in the same category: